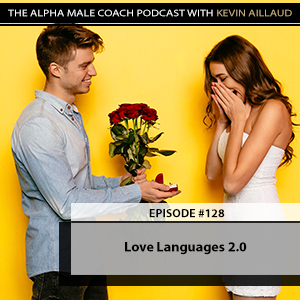 Love and relationships are a central part of what we work with here at the Alpha Male Coach podcast, and no matter where you are in your relationship journey, understanding how to navigate these spaces is of vital importance to the elevation of your alpha. I have spoken about the love languages before, and am returning to this topic today to do things a little differently. What I really want for you, brother, is to find freedom, love, and self-confidence!
I start off today's exploration by differentiating between love and lust so that we can get clear on what we are really talking about. Lust is an excessive fixation on the external, which is clearly an illusion. Remember blood, the external world is perfect and lust exists only in the realm of form, the illusion is the idea of the form and possessing it. As I have often said, you cannot possess people and things, so we need to separate a desire for sex and the imagery of lust. This illusion is a false reality, it does not exist, it a distraction and the ghost of prior generations.
This brings us to the five love languages, namely physical touch, words of affirmation, gift-giving, acts of service, and quality time. I want you to look at these a little differently and start to think about how you can give as much of each of these as possible without any expectation. Remember my brothers, we are the first men, and as an Alpha Man, we need to master ourselves and step out of the illusions of lust, wealth, and power! Love is the knowledge of oneness, understanding the perfection of reality, and by living through the laws of love you can bring peace to the world and yourself.
Want to know more about what I do and how I can help you? Sign up for a free 45-minute session with me, and I'll show you how this works!
What You'll Learn From this Episode:
The differences between lust and love.

Love as the knowledge of oneness and perfection.

The important lesson of loving others as you love yourself.

How to transcend our evolutionary fear in the new age of abundance.

Using love languages with no expectations or conditions. 

A call to action to start a habit around acts of service!

 
Listen to the Full Episode:

[INTRODUCTION]
[00:00:09] ANNOUNCER: Welcome to The Alpha Male Coach Podcast, the only podcast that teaches men the cognitive mastery and alpha mindset that it takes to become an influential and irresistible man of confidence. Here's your host, certified life coach and international man of mystery, Kevin Aillaud.
[EPISODE]
[00:00:31] KA: What's up my brothers? Welcome back to The Alpha Male Coach Podcast. I am your host, Kevin Aillaud and we are going to be getting into more relationship work in the episode today.
Relationships are so amazing, and at the same time, they're so misunderstood. Humans are so confused about the way relationships work. And it is one of the reasons why I created The Alpha Relationships Course. I've created a lot of courses for you guys to go through as you determine, as you make the choice on whether you want to enroll in the Alpha Academy. There is the Indomitable Self-Confidence Course. There is the How to Live Your Purpose Course. There is the How to Stop Buffering Course. 
And now there is The Alpha Relationships Course. And I'm really excited about The Alpha Relationships Course because there is so much information and action in there for everyone. It doesn't matter where you are in your relationships, from those of you who are married to those of you who are dating, and even those of you guys who are struggling with dating, we're just starting today like just getting into the approach. All of these courses are amazing, and as an academy student, you have access to all four of them. So, if you want to enroll in the academy, you can actually get access to all four of them.
Now, I want to teach you guys about the love languages. I've done a podcast on these before, many months ago. In fact, it could have been over a year ago now. But this is version 2.0. Late in 2020, I was asked by a member of the audience to do a podcast on lust. And while lust itself doesn't merit an entire podcast episode, I do think that this episode is to discuss very briefly, what lust is, and how it is so different from love. The difference lies in the illusion of the matrix, right? It lies in the illusion of form and the difference between what is and what we observe.
So, a simple Google search of lust provides over a dozen different definitions, right? Nobody really has one definition of what lust is. However, all of them, all these definitions contain the same component of over desire, and a fixation on the external. So, essentially, lust can be generally defined as an excessive fixation on the external which of course, is the illusion. I use the word illusion carefully here. I am not contending that the external world does not exist, brothers, you know this. Quite the opposite. In fact, I do and always will believe the external world is perfect, the perfection of creation from a perfect creator. We as humans are a part of this perfection and therefore, we are perfect ourselves.
There is perfection in our mistakes. Our mistake is a part of what makes us perfect. There is perfection in our over desire. Our over desire is a part of an individual's journey in perfection and of perfection. And it is only our own subjectivity. It's the only the judgments from our minds created from the conditioning of our society, from the conditioning of our past, from the conditioning of our environment, and so on, that casts a shadow on the reality of this perfection. So, be it known that I'm not making a judgment on the external world. All is perfect, the creator, the act of creation, and the created. This is the law. I do want to draw a distinction between lust and love, where lust exists only in the realm of form. The over desire from the subject exists within and the object of the over desire exists without, outside of us. The illusion is not the form, the illusion is the idea of the form, it is the possession of the form, that which we do not possess and that which we cannot possess.
We cannot possess women. We cannot possess people. We cannot possess wealth. We cannot possess power. These exist in the matrix as temporaries. They are transient, the ephemeral joys of the human experience. A woman isn't, and when I say woman, of course, I'm talking about the lust over a woman. A woman is an independent cellular being contained within her spiritual existence having a human experience. To lust after her for sex or control is the conditioning of a confused and archaic society. It isn't testosterone, my friend, it isn't being a man that creates this urge, that creates lust. The desire for sex is inherent in our DNA. No doubt about that. I'm not contending that. However, I don't want you to be fooled by the difference between the desire to procreate and the imagery of lust. The former is in our DNA. While the latter is a false reality taught to us directly and indirectly, from the unconscious beta conditioning of our prior generations.
We are alpha men brothers. Alpha is the first letter of the Greek alphabet. So, we are the first men of the expanded consciousness. There is no lust, because it is a distraction from the truth, it is a ghost. It is an apparition of the mind created in the matrix in the form of the woman in the red dress. Wealth and money are the same. They are transitory as the breath. When we inhale, we receive, when we exhale, that's when we give. Lust after wealth is no different than holding your breath. It's both useless and insufferable.
Power. Lusting over overpower just seems ludicrous to me, right? Think about it, what is power? Is there a greater power than cognitive mastery and emotional ownership? Is there a greater power than intention and purpose? Is there more to the human experience than doing what you want, when you want, where you want, with whom you want, and as much as you want? This is power. And this is success. Thank you, Tony Robbins, for that. All other forms of power are illusions of controlling and manipulating molecules, atoms and cells. This is not power. This is the last desperate attempts of a dying primordial paradigm. So, that's what lust is and I'm going to conclude lust with that.
So, let's get into love. Let's start talking about love. Love is knowledge of oneness. Love is the state of knowing there is no separation, that the world of form being perfect, as I mentioned, or the form is perfect. And that that is only revealed to us in fractions that we can understand. The totality of perfection is elusive, as elusive to a fish as the water that it swims in. You might have heard me talking about this analogy before. The water and the fish are one, yet the fish breathes it, lives in it, swims through it. If you take the fish out of the water, it will die. It cannot be separate from it. This is love, life, and the law for humans as well. The difference is that the fish have water. We humans have all of creation. We see form. We see solids, we see liquids, we see gases. We are not separate from it anymore, any of those things, any more than the fish is separate from water. We meet the outline of objects with a variance of resistance. We can pass through gas with ease. I mean, smoke and hydrogen and helium, we just pass through it, it's very easy. Liquid, we have more difficulty. Moving through water is more difficult than moving through air. And solid form requires the greatest of forces to pass through. We have to break them down.
All of it is in connection. All of it is a passing through of oneness. All gas is in connection with all liquid, which is a connection with all solid. The place where one stops, and the next begins is an outline, not a boundary, and this is not a spiritual hypothesis, brothers. What I'm talking is not spirituality. This is a scientific theory. It's not a scientific law. Not yet. But then again, neither is gravity. Gravity is a theory. Did you know that gravity is not a law? There's not a law of gravity. It's great gravitational theory and why? Because nobody knows what gravity is. Nobody knows what it is. No one can point at gravity and say this is it. Gravity is invisible. We can measure it, but we cannot see it. We can see the effect of it, but we cannot see gravity itself. And this is true of the theory of oneness. We can measure the theory of oneness, and we can see the effect of it. But we cannot see oneness itself. Because we only see a fraction of perfection.
Now, why am I telling you this? Like why did I start with this? Why is this important for the love languages? Because we're going to get into relationships and we're going to talk about love and there is no greater lesson given to humans than that which came from the master himself. Love others as you love yourself. Do for others as you do for yourself. Do unto others as you would have them do unto you. Without explaining the truth of oneness, the master explained the effect of it. The effect of us, all being one, is that we treat all that is outside of us, all humans, all things, all part of the world. So, we are treating ourselves and all that is within us. And since this is the truth of one, the inverse is also true. Mathematically, one is whole. One is complete. There is no opposite and any rule can be inverted and still remain true. Therefore, the same holds true that we treat ourselves, we also treat the world outside of us. This is a universal truth. I've talked to you guys about this many, many times.
So, put very succinctly, understand that the golden rule is what I do to others I do to myself. And the universal rule is what I believe about myself will determine how I act around others. This is life. The law is love. And love is the law. We stand here together on this precipice of evolution, and we make a choice, do we follow the law of life and live in love, such that our DNA passes into the next generation? Or do we turn away from the law and live in conflict, we live in illusion, live in over desire, live in fear, and destroy ourselves, such that our DNA fades away into the passing of time, like it did with Cro-Magnon, right? And all the other archaic ancestors of Homo Sapiens.
You see, in early times, it was fear that drove us to survive. We had to listen to the cognitive and emotional sounds of fear in order to survive. We had to learn to navigate the external world full of hostility and familiarity, and those who did passed on their genes of fear-based scarcity. But now we've arrived, my friends, we are here in the 21st century of abundance, we've done it brothers, a new age is upon us, the New Age is the internal evolution and expansion into a development of the truth. Fear is a historical marker. It reminds us of how far we've come. 
We don't turn away from fear, we transcend it knowing that our fears are left over from our primordial age. And for us to become more of who we are, we must listen to it so that we can grow beyond it. And we a new law, we have the law of love. And to bridge this gap, from external to internal, there is a giving and receiving. The knowledge, of course is taught in the academy and someday what you learn in the academy will be common lessons taught to our children of the future, the counterintuitive, edification will become standard education, like washing your hands or brushing your teeth are now a basic form of cleanliness that our early ancestors didn't have. They didn't know this. Now it's common sense.
For the time being, however, we have tools for reaching into the hearts of those who haven't been taught the law or who those who have been taught the law through an interpretation that aligns not with love, but with power and control. So here, I want to offer you the five love languages. They're from a book written in 1992 by Dr. Gary Chapman, and I want to offer them to you here as a way to live through the law on a daily basis. The three greatest feelings that we have, we can have, that we create, are freedom, love, and self-confidence. Freedom is the expression of the self. Love is the connection to the self. And self-confidence is the being of the self. And from here, a human shows up through the law in action, because action always follows feeling. And when we feel freedom, love and self-confidence, we are in alignment with the law of love. We are in alignment with the source itself.
Now, the five love languages are physical touch, words of affirmation, gift giving, acts of service, and quality time. And like I said, I talked about these on a previous podcast, but what I want to offer you today is something different. I want to offer you, to you, each of you alpha men, that you make it a point, a conscious choice and deliberate decision to give each of these love languages to as many people as possible daily, while expecting nothing in return. And yes, I said it, right? I said it and I know that there will be resistance to it. I know that there will be a rejection of it. Here we are so deep in the podcast episode like we're almost 15 minutes in and I hit you with the with the action bomb. I hit you with the actionable item. Meet each human with as many love languages every day, as possible. Give them, give them knowing that as you give them you receive, not in reception from the other in time. But in reception from the truth of oneness in the present. As you give them, you give to yourself simultaneously, as you give love so you receive it. You don't receive it back. It doesn't come after. You receive it simultaneously. You receive when you give in that very same moment, giving and receiving are one.
So, let's start with physical touch. And I start here because I've coached men who think physical touch is all about sex, right? Of course, this isn't true. I started the episode with lust because I wanted to actually present sent that. I want to present lust. I want to present sex. Physical touch is not about sex. It's about touch, period. That's it. You know what, guys, I love sex. I'm not going to lie. I love sex. I mean, I really love sex. And I will show physical touch to everyone. It has nothing to do with sex. I will show love through touching, with my male friends. I'm a bro hugging, back slapping, high-fiving, fist-bumping, handshaking, chest bumping, nonsocial distancing type of guy. And that's just the way I am with my male friends. With my females, I'm hand-kissing, neck-touching, arm stroking, lower back leading, hip holding, butt padding, foot massage and nonsocial distance type of guy. I touch, brothers, that's what I do.
When I was a fitness coach, I would touch my students. I would help them find the right position for their body mechanics through tactile cues. I touch people. Look, if someone gets terrified, you know, if they if I get that look in their eye, if I can see that terrified look in their eye, when I extend my hand to them, because they're afraid of something. I don't push the issue. I don't force people to be touched. There are plenty of other love languages, there are four more. I don't push it, I don't force it. However, I lead with it. I lead with physical touch as love languages. I believe that humans are tactile creatures. I believe we are animals of contact. And even before the pandemic, some people just grew up in an environment where touching meant pain. And you know what, I'm sensitive to that. I get that. If someone doesn't want to be touched, I will fall back on any of the other four love languages to express the law of love. However, I never let it affect my freedom to express. I will always express the truth. I will always demonstrate the law and the law is love.
Now, how about words of affirmation? These are easy, right? Especially when we're at a distance with people. But here's the thing about words of affirmation. I think a lot of people think that words of affirmation are meant to be returned or they're meant to influence a behavior. And neither is true. In the former, if you're just telling someone something nice because you want to hear something nice in return, then it's not genuine. It's not true words of affirmation. It's just manipulation. If you want to hear someone tell you that they love you. So, you go out and you tell them that you love them, just so they can say back to you, brother that that's not an expression of love. 
That's an expression of lack. According to the law, if you give lack, if you give emptiness, so emptiness will be returned to you. This is why neediness and desperateness, acting desperate is unattractive because emptiness returns emptiness. And the same is true if you're trying to influence behavior. This is the Mr. Nice Guy syndrome, which I know many of you are familiar with. I did a podcast on this very early on in the episodes. The Mr. Nice Guy syndrome is the complimenter. It's the guy that compliments to influence the behavior. And I'm telling you, brothers, that never ever works. Compliments to influence the behavior does not work. It's in genuine and it comes from a place of control.
Even if you think you're being nice, even if you think you're being kind. The truth is you're just in need of someone to do something so that you can feel better. That's all that is true words of affirmation come from the source. They come from love, they do not have any return other than the return of the giving itself. The giving is the end. It stops right there. You could do the same with a person as you do with a tree or a rock. Imagine this, do this with me, think about this. Stand in front of a tree and say to the tree, "I love the way you keep me cool, shading me from the heat of the sun." Just words of affirmation for the tree, just to love the tree. There is no response from the tree. You just appreciate the tree or the rock. You see a rock, you pick it up and you see the way the quartz in the rock sparkles in the sunlight and you say to the rock, "You know, your bits of quartz sparkle like the stars in the night sky. They are magnificent." To think about this like do this, the rock has no ears but it hears and it hears through you. You and the rock are one, and when you find the beauty in the rock, you see the beauty and all creation.
But when you say this to a woman, like if you say like, "I see the way your eyes sparkle, they sparkle like the stars in the night sky. They're magnificent." If you say this to a woman, do you stay with the intent of her feeling good? Are you trying to manipulate her emotions? Do you attempt to alter her cellular vibrations? Are you perhaps trying to desire a manipulation of her behavior? Are you trying to get her to do something? This is all ingenuine and these are not true words of affirmation. When you say it to her of her eyes, the way you would say it to the rock of its quartz, then you are in freedom, then you are in love, and then you are in self-confidence. That is when you are aligned with the source, that's when you are aligned with the law.
Now, quality time is another one that seems, like it may require proximity, right kind of like touch. However, I got to hand it to technology, due to technology, this isn't so any more. We can give quality time over the phone, we can get quality time over Zoom, we can give quality time over FaceTime. With quality time, the love is in the present moment. It is in the awareness of the collapsing of time to only the now. Quality time is not the sharing of closed space. It is the sharing of time. It is the sharing of this moment. To give love through this language, you must be able to be in the moment. You have to be in the now, experiencing the present moment without attachment to personal desires. This is something that is taught in the academy as it relates to the alpha male tenant seeing the world the way it is, rather than seeing the world the way we are.
When we engage with humans, we are so often seeing the world the way we are, we are so caught up in our own beliefs. We're so caught up in our own desires that we don't connect with people who are right in front of us. Instead, we're only connected to the beliefs we have. We're only connected to the way we think. The stories we tell ourselves about the way they are or the way they should be. We don't listen to people. We only wait for our turn to talk. And I see this happening all the time in all places. I see it happening on first approaches. I see it happening on first dates. I see it happening on 10-year anniversaries. I see it happening on Facebook. I see it happening in all social media. I see it happening on TV and throughout the interwebs. Humans are so disconnected from themselves and the perfection of the present moment that they don't give the love of quality time to the amazing being right in front of them, who are, according to the truth of oneness, they themselves, they are you. You're not giving quality time to them, you're not giving quality time to you because you and that person are one. To show up in the language of quality time, you must learn to see beyond your personal mind and personal beliefs. 
Now, I'm not saying to disregard, or to dismiss your identity or your personal beliefs. What I'm saying is to know that they are individualized to you. And that in order to engage with this other part of you that exists in the form of another cellular being, you will share your piece of the puzzle while observing their piece of the puzzle.
Now, the last two are gift giving and acts of service, and gift giving is truly fascinating to me. Very fascinating. To provide someone with a molecular item is so neutral that I sense the movement of mind and action. Have you ever heard the phrase, "It's the thought that counts", have you guys ever heard that? And certainly, there is a thought that precedes all action. This is the universal truth. The question always arises, what was the thought? When it comes to loving through gift giving, like all the love languages, the thought that precedes it cannot come from a form of manipulation or control. The act of gift giving ends when the receiver receives the gift. There is nothing to be given in return.
If you remember back to one of my podcasts on money, the podcast on money where I was talking to guys about the different positions that I have, my abundance position is one of the things that I do with money as I use it to pay for items that other people want. And I always ask first, the other person must be open to receive, that is my gift. That's the gift that I receive in return. That's the only thing I ask in return is that I hear a yes from them. If I want to pay for someone's groceries as a demonstration of the love language of gift giving, I ask them, "Can I pay for your food?" This is my gift. And they give me the gift of saying yes, of receiving That's it. There's nothing in return.
The same is true at the fuel pump. The same is true at the restaurant. When acting in love through the language of gift giving. ask yourself, what is the thought behind this gift? Is it that this person will love it? Is it that this person wants it? Or is it this that person needs it? Or is this person going to buy it for themselves anyway, which is what I like to do, right? I like they're already at the fuel pump. I know they're going to buy a fuel for their car. I know that they want it. I know that they're at the restaurant, they already ate their meal. I know that they're going to pay for it. So, I know this. Or are you asking yourself the question, is it something that you think they should have? Because you think that they need it, and you think that this is what's best for them. Or that you give this gift to them, like you think if I give this gift to them, then they will in some way owe me something in return. Ask yourself these questions. Know what the thought that precedes this action of gift giving is to know if it truly comes from a place of love.
Now, acts of service. Brothers, there is no human who is better than any other. There is no human who is worse than any other. All comparison of one to another lives and dies in the realm of form. People may be taller than you, people may be shorter than you, people may have a higher contractile potential than you, or a lower contractile potential than you. Other people may be faster or slower. They might be better or worse at creating spreadsheets. They might be better or worse at navigating through unfamiliar territory. However, no human being is better or worse as a human being. And there is no greater form of love than an act of service, which is a demonstration of this equality.
The master himself washed the feet of lepers. And at the end of every episode, I typically give you some call to action. You guys are probably familiar with this, right? At the end of every episode, I say, "Hey, go book a consultation call. Go and leave me a rating or review. Follow me on Instagram or go and enroll in the academy.  Get started on your alpha training." But not this week, not this week. This week, I want to offer, I want to call you to action, that every one of you in the audience starts a habit of providing an act of service in love.
Now, I'm not talking about a community service that's court mandated. Not because you went to court and you had community service like that was a sentence. I'm not talking about that. I'm not talking about the ones that you're feeding at the soup kitchen you do on Thanksgiving. And if you do do that, that's amazing. I'm not being condescending to that service. But what I want to offer is that you make a conscious choice daily, to seek out a chance to love your brothers and sisters through service.
Tonight, tonight, my friend, before you sleep, call to your mind, call into your attention, call from your alpha state that you want from the universe, the opportunity presented for you to love through service and when you arise in the morning, repeat this request to the universe. This is your intention. This is to keep your mind focused on where you can find opportunity in your life to give selflessly in love to those who need assistance, to those who require service. As a Mason, this is a part of our daily work. Eight hours of rest, eight hours of work, and eight hours in the service of God and our brothers and sisters in humanity. We divide the 24-hour day into three eight-hour parts.
In this form of love, there is no greater reward for the giver than to simply give. To be in service is to forget your doubts, forget your worries, and forget your fears. To direct the mind to others in love is to love yourself. It is the greatest expression of freedom, love, and self-confidence. Remember, there is only one, to serve others is to serve yourself. To serve yourself allows you to serve others daily.
Brothers, I want you to practice, I want to offer that you practice these five love languages with all humans. Now is the time. Now is the only time. There is no time other than the now. Seek it out. Find words of affirmation you can give. Find ways that you can offer gifts. Find ways that you can spend quality time with the people right in front of you, right now. They don't have to be friends. They don't have to be romantic partners or loved ones, they can be strangers. All strangers are just friends that you haven't met yet. Bring peace to the world by unifying yourself with the source and living through the law of love. 
You are alpha. We are alpha. Elevate your alpha.
[END OF EPISODE]
[00:29:15] ANNOUNCER: Thank you for listening to this episode of the Alpha Male Coach Podcast. If you enjoyed what you've heard and want even more, sign up for Unleash your Alpha: Your guide to shifting to the alpha mindset, at the alphamalecoach.com/unleash.
[END]